Our company operates in the Japanese market as a customer-sourcing consulting business.Specifically, we provide a consulting services for areas including Social media marketing and Content marketing, and develop access analysis tools and social media analysis tools.Since starting our services in 2002, there have been changes in techniques and tools, however, one thing that remains consistent is the process of sourcing customers, analysis and improvement.Would your company like to utilize our know-how of the Japanese market obtained by this process for its own services?
Our Services
Agency with high social network literacy
→We are the team of efficient social media operation specialists.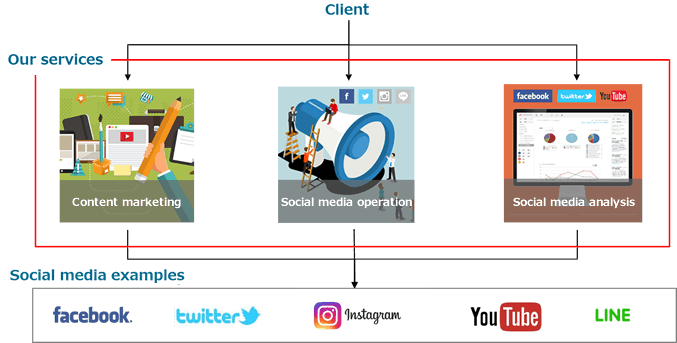 Intended for the Japanese market, we can provide services that meet the needs of your company, including:
・Social Media Marketing
・Content Marketing
・facebook, twitter analysis tools
・Data analysis (contents/social media/Web sites)
What's more, we can also assist with Web site production and social media intended for the Japanese market.
Our Published Books
Agency with high social network literacy
→Published books about social media operation know-how.


Social Network Marketing: A Gentle Textbook
—Facebook・Twitter・Instagram— Accelerate Your Business Using Connections
Release date: October 3, 2016



Raise Your Effectiveness! Job-Field Applicable Instagram Marketing
Release date: May 20, 2017



How to make content shared by SNS
Release date: March 20th, 2018


Our Social Network Implementation Track Record
Agency with good track record of social network communication usage.
→Our services have been employed by many customers.



Panasonic, Toshiba, Sorun, Fuji Xerox, Recruit, JTB, Kyocera, Benesse Corporation, Bandai, Gulliver International, Dr.Ci:Labo, Mars Japan Limited, Sekiwa Real Estate, Shoeisha, NTT Card Solution, Pfizer, NS Solutions, Don Quijote, KEN Corporation, Globis University Graduate School of Management, Bic Camera, Sammy Networks, Servcorp, MyComi(no particular order, titles omitted)
Company Information
Global Link Japan, Inc.
Established:May 29, 2002
Capital:¥10,010,000
Address:
(Tokyo main office)
Hatchobori Frontier Building 5F, Hatchobori 4-9-10, Chuo, Tokyo 〒104-0032
(Osaka branch office)
Esaka Minami-guchi Building, Esaka 1-23-28, Suita, Osaka 〒 564-0063
CEO:Hikoshi Sugioka(facebook,twitter)
Main bank:Mitsubishi Tokyo UFJ Bank, Shibuya Branch
Contact Us
Please feel free to inquire.